Parajet Paramotor Features Innovation and style comes as standard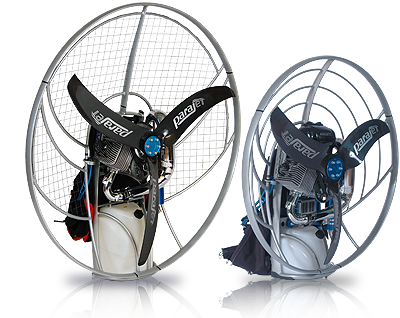 A Visible Difference!
When you're flying a Parajet paramotor you know you're flying a machine incorporating the most advanced technology, engineered by the best in the business. From its performance enhanced engines, lightweight chassis for greater control, to slick aerodynamic styling that give attitude as well as performance - when you look around a Parajet paramotor, you'll see the difference!
We are so passionate about paramotoring that we wanted to make a product that reflects what we wanted out of a paramotor. Parajet paramotors are born out of the belief that we could do better, not only in delivering a better customer experience, that we could build something that was not only fun to fly but evokes the emotion to want to fly it.
Breathable, Lightweight Fabric System

Lightweight fabric with air-mesh technology.
Moisture wicking performance & protection from wind chill.
Foam-padded back with cooling air channel.
Ergonomic Weight Distribution

Adjustable, padded air-mesh shoulder straps.
Ergonomic weight distribution and load stability.
Improved pilot posture, less fatigue, better breathing, and less strain during launch.
Ultralight, High-Strength Components

Highest level of durability and safety.
Slimline quick-release buckles ensure fast, easy and safe connections.
Soft, lightweight polyester webbing is strong without feeling stiff or coarse.
Weight-Shift Harness

Adjustable low hangpoints for precise and responsive handling through weight-shift.
Manufactured from aluminium billet for high strength and rigidity.
Unique pivot arm lock-in system - utilises the cage as a secondary lock for improved safety.
Aluminium Chassis

Lightweight, high tension chassis helps improve power-to-weight ratio for enhanced ground handling and in-flight manoeuvrability.
High-tension, wide profile aluminium uprights for unmatched rigidity and impact resistance.
Unique Aerofoil Cage

Hydro-formed aerofoil tubing offers strength, superior airflow and a unique style.
Unique cage connection system enables dismantling in seconds.
Highly compact and transportable.

6082 aircraft grade aluminium.
Designed and hand-built in the UK.
Strong, lightweight and compact.
Paramotor health check
LEARN TO FLY YOUR PARAMOTOR
THE ULTIMATE TEST OF RELIABILITY
Read our pilot bios here