Learn More About Paramotoring (PPG) and Parajet Paramotors
What is Paramotoring?
A rapidly developing sport which brings the dream of
personal flight to everyone.
Paramotoring or "Powered Paragliding" (PPG) offers everyone the opportunity to experience the freedom and excitement of personal flight. This is not only because of the simplicity and low cost of entering the sport, but also due to the fact that it is extremely safe and enormously good fun!
Unlike paragliding, a paramotor pilot is not reliant on elevated areas and the use of natural thermal conditions to take-off, gain height and maintain flight. Using a similar paraglider wing but combined with the use of a lightweight engine and propeller, which which is worn like a backpack, allows the paramotor pilot to harness the thrust created by the engine and the lift created by the wing to take off easily with a short run from a flat open space and maintain height by simply applying power.
A Paramotor is compact and transportable, quickly and easily put together, and once dismantled fits easily into the back of a standard car and allows almost anyone to fly, without a license at a fraction of the cost compared to other traditional aircraft. With no airstrip, flying hill or licensing necessary, paramotoring offers you this unique, hassle free route into the sky.
Why fly a Parajet?
A paramotor incorporating the most innovative technology, engineered by the best in the business.
Innovative Design
Parajet paramotors are born out of the belief that we could do better, that we could design something that was not only fun to fly but evokes the emotion to want to fly it. So when you look around a Parajet paramotor you'll see the difference. We strive for perfection in everything we do, without compromise. Our designers work side-by-side with a world class team of pilots to understand, hone and extend the complexities of paramotor design. With each revolution comes progression, and our paramotors deliver in both innovative design and enhanced performance.
Engineering Excellence
Our paramotors are hand-built by experienced engineers at our manufacturing facility. Every component found on our paramotors has been engineered for form and funtion; from our unique entirely CNC machined Zenith chassis to our extruded aluminium aerofoil cage, right through to our moulded fuel tanks. Unlike other paramotor manufacturers, we don't take parts from go-karts or other products and try to adapt them; each component is engineered and manufactured in-house.
Meticulous Quality Control
Our world renowned perfectionist attitude and attention to detail is unrivalled and ensures our paramotors are of the highest quality available on the market today. Our meticulous assembly procedures and small batch production, ensures the level of quality and safety controls you would expect from our machines. Every engine is fine tuned and run up in our test cell before shipment. When your new paramotor arrives on the doorstep you can simply open the box and start flying.
Renowned Customer Service
We hope that you feel reassured by our reputation for reliability and quality. It is a reputation that has been built over many years and one which is regularly reinforced by the excellent level of service we provide to our customers. From our comprehensive warranty, to our ability to go that extra mile to solve a problem, everyone at Parajet strives to ensure a positive feeling of intense excitement is felt by our customers; so it is no coincidence that the name Parajet is synonymous with customer satisfaction.
Two Paramotors, One Exhilarating Experience
A choice of two paramotor chassis with exceptional dynamics and an engaging flying experience.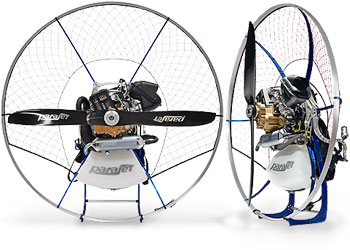 Zenith Paramotor
Our Zenith Paramotor offers pilots of all skill levels the very latest in lightweight paramotor design. The Zenith is the most compact and transportable paramotor available and makes it ideal for those with limited storage space or pilots wanting to travel internationally. This unique paramotor was designed with total precision in mind and provides pilots with plug-and-play spares for easily maintenance. Each machine is intuitive, responsive and dynamic in flight ensuring pilots benefit from the most comfortable and enjoyable flying experience design can create.
Industry leading design & engineering
Lightweight & Strong
Compact & Transportable
Low Hangpoint Weight-Shift System
12.5ltr Quick-Release Fuel Tank
Weighs Only 10.5kg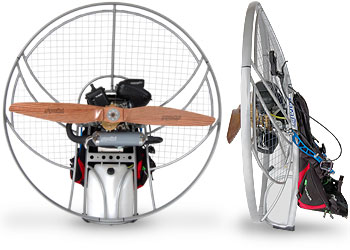 Volution Paramotor
Our Volution Paramotor is widely considered to be one of the strongest available on the market today and as a result has become a favourite with instructors, beginners and intermediate pilots across the globe. The Volution's strong, durable and quick to assemble design ensures that customers can transport and use their paramotor with minimal hassle and adjustment. Beginner pilots will also benefit from added peace of mind, knowing that their new paramotor will stand up to a few trips and falls in their early flying career.
Industry Renowned & Trusted
Ultra Strong & Durable
Easily Transportable
Low Hangpoint Weight-Shift System
14ltr Fuel Tank
Weighs Only 13.5kg
Both the Zenith & Volution Paramotors Come With A Choice Of Engine Configurations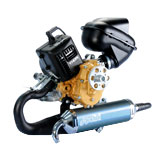 Polini Thor 130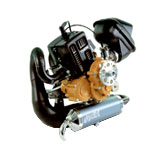 Polini Thor 200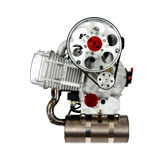 Bailey V5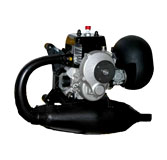 Top 80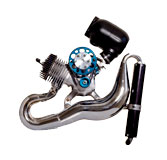 Vittorazi Moster 185
Engine Type:
130cc 2-Stroke
Engine Type:
193cc 2-Stroke
Engine Type:
195cc 4-Stroke
Engine Type:
80cc 2-Stroke
Engine Type:
185cc 2-Stroke
Power Output:
21.5hp@8800rpm
Power Output:
29hp@7400rpm
Power Output:
20.5hp@8000rpm
Power Output:
15hp@9500rpm
Power Output:
25hp@7800rpm
Static Thrust:
65kg(143lbs)
Static Thrust:
80kg(176lbs)
Static Thrust:
60kg(132lbs)
Static Thrust:
48kg(105lbs)
Static Thrust:
68kg(149lbs)
Packed Full of Innovative Features
The little details that make the big difference.
Mid/Low Hangpoints
Enhanced in-flight geometry.
Parajet has always been a strong advocate of the low hang point attachment and this has featured throughout our range of paramotors for the last 10 years. Our innovative design offers improved wing response feedback and an optimised thrust line while removing the normal swing or rocking motion found under throttle, to give the ultimate low hang-point machine.
Articulated Pivot Arms
Comfort and safety built in.
The Parajet pivot arm system uses a unique and distinct attachment system for unrivalled safety. The arm pins are secured into the chassis using a distinct interlock system that ensures all parts stay engaged and prevents the possibility of the arms ever becoming detached whilst in flight. The pivot arms themselves are designed to improve comfort, manoeuvrability and precision allowing the pilot to fly in unison with their paramotor. This amalgamation of engineered features ensures pilots benefit from a safe and enjoyable flight with total peace of mind and confidence in their equipment.
Weight-shift Characteristics
In-flight freedom and control.
The combination of our low hang point attachment and articulated pivot arms culminates in the ability for the pilot to control direction without the ongoing control input. Known as weight-shift, this dynamic feature works through the pilot's weight effecting the orientation of the pivot arms, which in turn provides input into the wing. Weight-shift enables pilots to emanate the agile characteristics of free-flight with manoeuvrability so precise, that the paramotor feels like an extension of their body.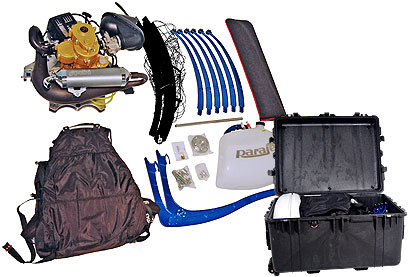 Portable Chassis Design
Get away from it all while taking it with you.
When it comes to practicality, there is no compromise. Our paramotors are designed and built to be lightweight, compact and easily portable. Our unique connection system enables our units to be easily put together and dismantled within minutes so pilots enjoy a hassle free experience and ease of use.
The Volution paramotor cleverly breaks down into four easily transportable cage and chassis pieces. Whilst being easy to transport and assemble it is also world renowned for its strength, durability and safety and has become a favourite of instructors, beginners and intermediate pilots across the world.
The Zenith represents the very latest in compact paramotor technology and once dismantled can fit into a large suitcase making it one of the most transportable paramotor units available. For this reason, the Zenith has become a must have for pilots with limited storage space or those wanting to travel internationally with their equipment.
Parajet offer a wide range of accessories including transport bags and protective covers to ensure that your paramotor reaches its destination in the best possible condition and is ready to fly when you get there.
How to buy your Parajet
A worldwide dealer network that reflects the high quality of our brand.
Parajet have a worldwide distributor and dealership network so that we can you offer local, trusted help and advice when buying your Parajet paramotor. Our dealers are typically made up of flight training schools and are all highly qualified and experienced in our range of paramotors. Parajet firmly believea that all our dealers and instructors should strongly reflect the high quality of our brand, and our customers can relax in the knowledge they will receive the best possible level of service by trustworthy, helpful and experienced representatives.
THE ULTIMATE TEST OF RELIABILITY
EVERYTHING TO GET YOU IN THE AIR
Create your ultimate Parajet
OTHER DEVELOPMENTS